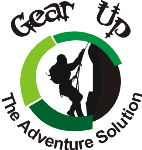 GEAR UP
Information about GEAR UP :
Location/Address :
29 MEZANINE FLOOR, BEVERLY CENTRE,BLUE AREA
Phone number :
+92-51-2814093
Website URL :
http://www.gearup.asia
Email :
Contact GEAR UP
Rating :
Not Rated Yet.
Brief Description : The 1st outdoor adventure equipment retail/rental outfitter in Islamabad to offer a wide range of branded/non-branded fishing, hunting, camping, mountaineering, hiking and trekking accessories in the form of a complete "Adventure Solution". It offers discounted prices to groups, thus reducing individual financial burden, and encouraging outdoor enthusiasts, of all ages, and from all walks of life to freely indulge in outdoor adventures.