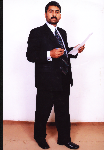 THE BUSINESS SOLUTIONS
Information about THE BUSINESS SOLUTIONS :
Location/Address :
Office No. 1, Chach Plaza, Near Sharif Hospital Bus Stop, G.T.Road, Wah Cantt, Tehsil Taxila, District Rawalpindi.
Phone number :
0514325755
Email :
Contact THE BUSINESS SOLUTIONS
Rating :
Not Rated Yet.
Brief Description : INCOME TAX 1. Issuance of National Tax Number, 2. Preparation and Filing of Income Tax Return, 3.Record keeping of the Financial and accounting transactions. 4.Preparation and filing of statutory withholding tax statements 5. Assist Audit / Proposed amendment in assessment 6. Preparation and filing of Appeal of commissioner Inland Revenue(Appeals) / Appellate Tribunal Inland Revenue. SALES TAX 1. Issuance of Sales Tax Registration Number 2.Preparation and filing of Sales Tax Return. 3. Assist Sales Tax Audit / assessment 4.Record keeping of Sales Tax Books 5. Preparation and filing of Appeals OTHER 1. Company Registration 2. Partnership Firm Registration 3. Chamber of Commerce Registation 4. Trade Mark 5. Copy Right 6. Professional Tax 7. Pakistan Engineering Council 8. Social Security 9. E.O.B.I.