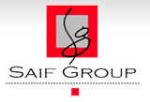 Saif Group
Information about Saif Group :
Location/Address :
4th floor,kashmir commercial complex,1032-E,fazal-e-haq road,Blue area Islamabad
Phone number :
051-2201856
Website URL :
http://www.saifgroup.com
Email :
Contact Saif Group
Rating :
Brief Description : The Saif Group is one of the leading industrial and services conglomerates in Pakistan. Its primary operations encompass: oil and gas exploration, power generation, textiles manufacturing, real estate development, healthcare services, information technology services, software development and environmental management. Our goal is to constantly innovate in a diverse range of business areas, providing unique products and services of the highest quality, while bringing robust value to our shareholders.