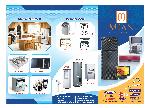 Mian Electronics
Information about Mian Electronics :
Location/Address :
14, Gulnoor Market, Muree Road, Rawalpinidi
Phone number :
03018543636
Email :
Contact Mian Electronics
Rating :
Not Rated Yet.
Brief Description : We deal in Air Conditions, Refrigerators, Deep Freezers, LCDs, TV, Water Dispenser and all kind home and gas appliances. We deal with the sale of both individual as well as for corporate sale. We have better rate than market and also have best after sale services.