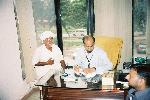 SADRI HERBAL CLINIC
Information about SADRI HERBAL CLINIC :
Location/Address :
7-1st.Floor, Capital Trade Center, F-10 Markaz, Islamabad-44000
Phone number :
+92 51 25 17 986
Email :
Contact SADRI HERBAL CLINIC
Rating :
Not Rated Yet.
Brief Description : Commetted to serve You & Your Famaily with Comlplete Health Solutions.....! i.e. Unani, Ayurvedic, Natural Herbal Spagyrics, Nutritional & Holistic Medical Sciences. Specialy for Pain Management of the Spinal cord, Sciatica, Muscels & Nerve, Stress, Arthritis & other Painfull diseases, we are poineer of Cupping Therapy (Al-Hijama, that is a Islamic way of treatment) in Islamabad-Pakistan.